How can I stay on track during the silly season?
Posted by Aaron Shepherd on 28 October 2020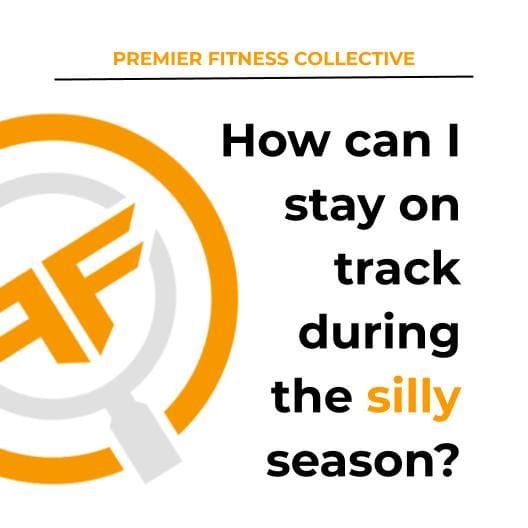 With less than 8 weeks to go until Xmas, it may seem like the walls are closing rapidly on any remaining goals for the year. After all, 8 weeks isn't much, and despite your best intentions to finish 2020 like a monk, you are probably noticing that everyday another Xmas party or end of year event is added to your diary. As such, here are a couple of reality checks that need to be considered as 2021 comes knockin'.
1. More partying has never equalled faster or better results. Sorry.
2. It takes the average human physiology 4-5 days to fully recover from a night of heavy drinking.
BUT all is not lost. There are ways that you can ensure these last few weeks are winners.
1. Pick a performance goal for the last few weeks
Use the last few weeks to focus solely on getting as strong as you can. The intake aspect of weight management can be challenging at the best of times, so shift your focus toward something that is usually more forgiving in terms of rest periods and 'calories in', like getting stronger.
2. Be more selective with your party choices
It's easy to lose track of time in the dark of the night, so lean towards events that start earlier in the day so that even if you're inebriated you're more likely to realise how long you've been at it. Hopefully your social conscience will remind you that it's not ok to be s***faced on a playground at 2pm in the afternoon.
3. Try new activities with an 'Accountabili-buddy'
'Misery loves company' is one way to look at this idea, but people are more than 85% more likely to achieve a goal if they have a clearly defined accountability buddy. So with Xmas parties comin'-a-calling, there's no time like the present for you and friend to distract each other with some more productive new activities.
4. Train lighter, but more often
If your current training structure is geared toward near-crippling yourself 3 days a week in the search for ultimate fatigue, try adding an extra day or two and reducing the overall training load per session. If you're boozing more than usual, two training sessions at 65% is much more beneficial (and safer) for weight management and overall health than trying to grind out your usual session at 85% while you're not at your best. If you're a bit dusty, rolling out of bed for some light weights and cross trainer is much more manageable than a hectic spin class.
5. Set a group challenge with family and friends
Chances are each and every one of your friends and family have a goal or two they're trying to tick off before December 24th, so try setting up some sort of 'big reveal' competition within the group that you'll be spending Xmas lunch or dinner with. Friendly competition of any kind can be a great motivator, especially if you know you'll all be 'breaking the seal' together afterwards.
I hope this gives you some ideas about how to make these last few weeks count.
So let's finish the year with a bang, and set things up for a powerful 2021.

Author:
Aaron Shepherd
About: Premier Fitness Collective Founder
Connect via:
LinkedIn